Screeners: Berberis thunbergii 'Golden Rocket' PP18,626
Botanical name: Berberis thunbergii 'Golden Rocket' PP18,626
Common name: Barberry, Golden Rocket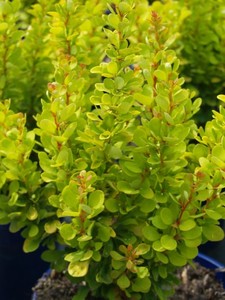 Photo credit: Bailey Nurseries
description for "Screeners: Berberis thunbergii 'Golden Rocket' PP18,626"
'Golden Rocket' is an outstanding barberry selection with an upright, columnar habit and bright yellow foliage. Pale yellow flowers appear in spring. Bright red berries in fall contrast beautifully with the foliage. A wonderful vertical accent that is certain to brighten landscapes with its spring to fall color display. Grows to 4.5' with a spread of 24". Zones 4-8. Edited by M.Tate
History:
Introduced by Bailey Nurseries in 2012.