Grasses: Avena sativa, A. fatua
Botanical name: Avena sativa, A. fatua
Common name: Oatstraw
also known as (Oatgrass, Oatmeal, Oatstraw Herb, Groats, Haber)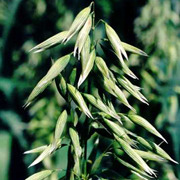 Photo credit: crazyfarmgirl
description for "Grasses: Avena sativa, A. fatua "
Oat Straw consists of the dried threshold, leaf, and stem of the oat plant (Avena sativa). Oat (Avena sativa) is a light-green annual grass with a bushy root. Tall and graceful~
History:
Oats originated in England, France, Poland, Germany, and Russia but are now cultivated worldwide. The fruit, leaves, stem, and seeds are used. Oats are often consumed as part of the diet and are a good source of protein, fat, and fiber. Oat is a member of the Poaceae/Gramineae family. The herb known as oat straw refers to the whole of the plant, including the leaves and stems. These parts of the plant are dried and chopped, and used in both internal and external forms by traditional herbalists. The grain itself is harvested in late summer, and milled to produce oatmeal and oatbran. Oatmeal, the ground grain, has a high silica content, and can be used externally for skin problems. Oat bran, produced from the coarse husks of the grain, is helpful for reducing cholesterol levels. Oatstraw is also used as an infusion or tea and is known for it's ability to revive the libido, hence "sowing your oats".