Lettuce: Lactuca Sativa, 'Reine Des Glaces'
Botanical name: Lactuca Sativa, 'Reine Des Glaces'
Common name: head lettuce
also known as (crisphead lettuce)
Check below for detailed opinions of real gardeners on all stats for "Lettuce: Lactuca Sativa, 'Reine Des Glaces'". We need your opinion, so click on "Your Opinion" anywhere you can help make our database better!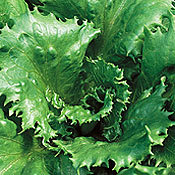 Photo credit: Seeds of Change
You must be logged in to create a plant picture.

Tags:
seeds of change
soil characteristics