Coneflowers: Echinacea purpurea 'Gum Drop'
Botanical name: Echinacea purpurea 'Gum Drop'
Common name: purple coneflower
also known as (eastern purple-coneflower, hedgehog coneflower, purple daisy, black samson, purple-coneflower)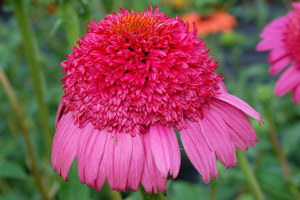 Photo credit: Terra Nova Nurseries

description for "Coneflowers: Echinacea purpurea 'Gum Drop'"
'Gum Drop' purple coneflower looks good enough to eat! Amazing candy pink rays with feathery deep pink central pom poms. Great for the middle of the border. Terra Nova Nurseries recommends planting with pink Coreopsis and blue ornamental grasses. Tall plant - 48" with blooms. Provide full sun and adequate drainage. Shady locations and overfertilization can result in long, weak, leggy growth. Blooms sporadically from summer through frost. Excellent cut flower for arrangements. -- edited by dtd pbcouchman
History:
Echinacea purpurea is a North American native.