Geraniums: Geranium dalmaticum
Botanical name: Geranium dalmaticum
Common name: Dalmatian geranium
also known as (Geranium macrorrhizum var. dalmaticum, Cranesbill, crane's-bill)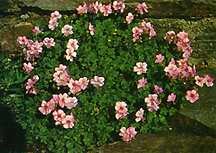 description for "Geraniums: Geranium dalmaticum"
Dalmatian geranium is also known as Dalmatian cranesbill. Dalmatian geranium produces light shell-pink flowers in summer above a mound of fragrant foliage. Foliage is also nice in fall when it turns orange-red, and even persists into winter. Needs full sun and adequate drainage. Will not tolerate wet feet! Plants in shade will stretch and have reduced flowering. Will spread rapidly, but easy to keep in check in the garden. -- edited by dtd pbcouchman
History:
Geranium dalmaticum is native to Albania and former Yugoslavia.