Crocus: Crocus chrysanthus 'Lady Killer'
Botanical name: Crocus chrysanthus 'Lady Killer'
Common name: snow crocus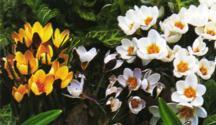 description for "Crocus: Crocus chrysanthus 'Lady Killer'"
Spring flowering snow crocus 'Lady Killer' has very unique pointed petals. Boldly contrasted with a white interior and outside petals that are deep purple edged with white. Grow in gritty, poor to moderately fertile soil. Awards: RHS AGM (Award of Garden Merit) Easily grown and free-flowering, spring flowering species crocuses will increase their kind from year to year. When you purchase, keep in mind the naturally smaller size of the species corms because you'll want enough to form tight groups. And don't forget to pot a few corms to force into early bloom in your home over winter. It's a way to preview your treasure trove weeks before the corms bloom outdoors, just about the time the snow melts. --edited by dtd siegelgirl
History:
Look to the species crocuses, like 'Lady Killer', for a bit of daring and adventure. After all, these crocuses hail from homelands that include Spain, Portugal, Morocco, Italy, Greece, Asia Minor and China. The flowers of the species are miniature when compared to their Dutch cousins, but the species definitely hold the upper hand when it comes to color, especially the bicolored species which are exotically feathered or dusted with a secondary hue. Crocus chrysanthus grows wild in Greece and Turkey with vivid orange-yellow flowers. Four varieties were distinguished by George Maw by their colouring (fusco-tinctus, fusco-lineatus, (gold with brown freckling or feathering externally), albidus (white), coerulescens (blue)), and designated e.g. C. chrysanthus var. fuscotinctus. It has smaller corms and a small cup shaped flower, compared to the Giant Dutch Crocus (Crocus vernus), although produces more flowers per bulb than C vernus. Its common name derives from the fact that it is an early crocus, blooming about two weeks earlier than the giant crocus, and may emerge through the snow in early spring.