Cherry: Prunus sp.
Botanical name: Prunus sp.
Common name: Cherry, Balaton® Pie Semi-Dwarf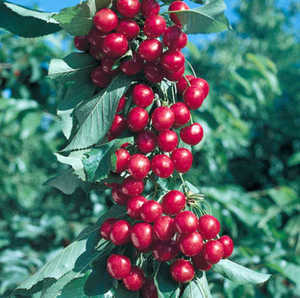 description for "Cherry: Prunus sp."
Now a pie cherry so sweet you can eat 'em fresh. This variety was selected by growers in Hungary, near the Soviet border. In U.S. trials, Balaton® pie cherries have proven to be significantly sweeter, larger and more firm than Montmorency. Fruits ripen over an extended period beginning in late June so you can s-t-r-e-t-c-h your enjoyment. Juice is redder than others making it great for juices and preserves. Self-pollinating but bears larger crops with pollination from any other cherry. Ripens in late June in Zone 5. Mature height of 12-15 feet. Edited by M.Tate.