Zinnias: Sanvitalia procumbens
Botanical name: Sanvitalia procumbens
Common name: Mexican creeping-zinnia
also known as (creeping sanvitalia, lavender-cotton)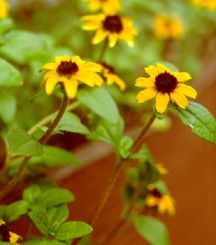 description for "Zinnias: Sanvitalia procumbens "
In garden cultivation since 1798, this golden yellow daisy flower looks very much like a small black-eyed-susan with short petals and a big brown eye. Not a true zinnia, it is covered with blooms all summer. thriving in heat and sun. The stems, trailing to 2 feet long, have a billowing effect which lends an informal atmosphere to garden edges and containers. Try it in combination with Dwarf Morning Glory for an eye-catching display. --edited by dtd siegelgirl
History:
Native to south-central and southwest US, northern and central Mexico, Costa Rica and Guatemala.