Bulbs: Camassia quamash
Botanical name: Camassia quamash
Common name: common quamash
also known as (Camassia esculenta, Phalangium quamash, common camassia, quamash, North American wild-hyacinth, camosh, camass, camash, camas, bear's-grass)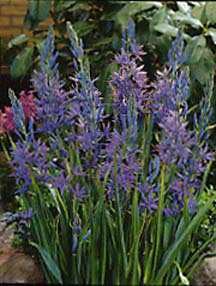 description for "Bulbs: Camassia quamash"
Common quamash bears a long raceme of pale to deep blue-violet flowers, lovely for cutting. These easily managed American natives of the pacific Northwest were once used as a foodstuff by some Indian tribes and the Lewis and Clark expedition. These true bulbs resemble tall Scillas. Color variation among the species is common. Excellent display plants in the garden or naturalized in moist grasses, by ponds or in light woodlands. Keep wet in the spring, but dry during summer dormancy. -- edited by dtd pbcouchman
History:
Camassia quamash is native to western North America.