Coreopsis: Coreopsis lanceolata 'Double Sunburst'
Botanical name: Coreopsis lanceolata 'Double Sunburst'
Common name: garden coreopsis
also known as (lanceleaf coreopsis, tickseed)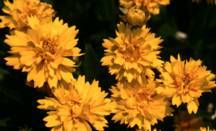 description for "Coreopsis: Coreopsis lanceolata 'Double Sunburst'"
'Double Sunburst' flowers are semi-double, with the center still obvious. There are many species of Coreopsis, several of which have garden value, and some that are almost indispensable. All have daisy-like flowers. They are easy to place, requiring only a sunny spot with average garden soil. All are very heavy bloomers and cut well. Will grow in various soil types. Happiest in full sun, but will tolerate some shade. Does excellent in raised flower beds. Free flowering all summer with adequate moisture and occasional "dead-heading." -- edited by dtd pbcouchman
History:
Coreopsis lanceolata is native to the United States, east of the Rocky Mountains, and Canada. It has now become naturalized throughout much of the northern hemisphere.