Annuals: Ammi majus
Botanical name: Ammi majus
Common name: false bishop's weed
also known as (common bishop's weed, bullwort, herb William, greater ammi, lady's lace, Queen Anne's lace)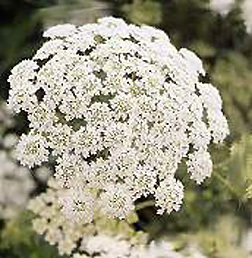 Photo credit: pbcouchman

description for "Annuals: Ammi majus"
Old fashioned false bishop's weed (also known as lady's lace) flowers look like huge filigreed snowflakes floating above finely cut green foliage. Our superior 3-foot tall cut flower strain has more perfectly formed snow white blossoms than the more familiar but somewhat weedy Queen Anne's lace. You'll find the delicate frothy blossoms are beautiful filler flowers in exquisite summer bouquets. Ammi majus's 4- to 5-inch intricate blossoms on graceful long stems add woodland charm to every garden. -- edited by dtd pbcouchman
History:
Ammi majus is native to southern Europe and western Asia.