Perennials: Asclepias incarnata 'Ice Ballet'
Botanical name: Asclepias incarnata 'Ice Ballet'
Common name: swamp milkeweed
also known as (water nerveroot)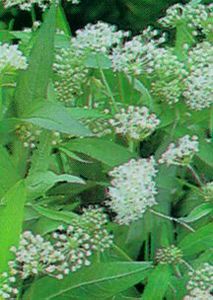 description for "Perennials: Asclepias incarnata 'Ice Ballet'"
Swamp milkweed is also known as water nerveroot. This version of the familiar swamp milkweed is a very desirable plant. It will grow most anywhere but it is especially suited to moist and even wet soils. It has clusters of white blossoms that attract butterflies. All milkweeds have fleshy, tuberous roots. They are slow to start in the spring - mark your plants well so you don't behead them during early spring cultivation. Be aware of the milky sap - it can be irritating to the skin! Provide adequate moisture. -- edited by dtd pbcouchman
History:
Asclepias incarnata is native to North America.