Clematis: Clematis montana var. grandiflora
Botanical name: Clematis montana var. grandiflora
Common name: white anemone clematis
also known as (Clematis montana var. lilacina, mountain clematis, Himalayan clematis, Clematis montana 'Grandiflora', Clematis montana f. grandiflora)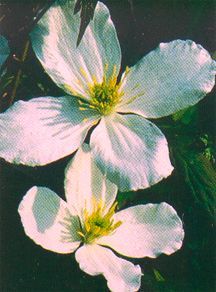 description for "Clematis: Clematis montana var. grandiflora"
White anemone clematis bears large flowers up to 3 inches wide; unscented. This gorgeous clematis is a member of Group 1 (Group A) clematis – prune only after flowering, to shape, or to remove dead wood. The Group 1 clematis flowers on wood produced the previous season. Pruning before flowering will only remove the flower buds and result in reduced flowers. Provide full sun to part shade and consistent moisture. – edited by dtd pbcouchman
History:
Clematis montana var. grandiflora is native to temperate and tropical Asia.