Perennials: Corydalis flexuosa 'Blue Panda'
Botanical name: Corydalis flexuosa 'Blue Panda'
Common name: blue corydalis
also known as (Corydalis 'Blue Panda')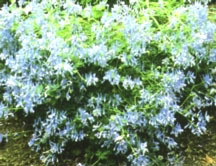 description for "Perennials: Corydalis flexuosa 'Blue Panda'"
Corydalis is a large genus of small plants, most with tubular flowers and delicate foliage. This unusual Asian plant is sure to become very popular. Flower color is sky blue, and it has a very pleasing, musky fragrance. Long season of bloom. If cut back after flowering, a late summer or autumn bloom usually occurs. It is a low plant with gentle arching branches that create a cascading effect. Habit is more upright if grown in more sun. Best in moist, shaded conditions in somewhat alkaline soil. Try planting along a rock wall - limestone especially - where the soil is already alkaline. Good in a rock garden. 'Blue Panda' is easy to grow and is very hardy. Will not self-sow. -- edited by dtd pbcouchman
History:
Corydalis flexuosa is native to China.