Crocus: Crocus vernus 'Remembrance'
Botanical name: Crocus vernus 'Remembrance'
Common name: Dutch crocus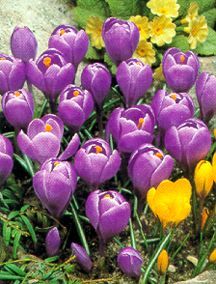 description for "Crocus: Crocus vernus 'Remembrance'"
A sure sign of spring, 'Remembrance' produces large violet blooms that have an attractive silver gloss and dark purple base. You won't need to tie a string around your finger to remember these blooms from year to year. As a Dutch crocus variety, these produce larger blooms than many of the species crocus. They require almost no care after planting and are pest free. Crocus look best when planted in large numbers of 100 or more corms and massed in waves of color under trees and shrubs or naturalized in lawns. This short, bulbous plant blooms in late winter or early spring. Leaves are basal and grasslike, with silver midrib. If you are not a strict "clean lawn" person, crocus are welcomed additions sown freely in the lawn in generous drifts, especially at the end of walks, along the edge of drives, or beneath trees. This works especially well in warm season lawns, because by the time you mow the lawn for the first time, it's ok to to mow the crocus foliage. Grows best in gritty soil and full sun. Crocus bulbs are easy to grow and require very little maintenance if they are provided enough sunlight and well-drained soil. If your crocus bulbs stop blooming well after a couple years you may need to dig them up and divide them to encourage full blooms. The best time to divide your crocus plants would be just as the foliage has completely yellowed and died. --edited by dtd siegelgirl
History:
Crocus vernus are the wild crocus of the Alps and Pyrenees, the forerunner of beautiful and numerous selections and hybrids known collectively as 'Dutch Crocus.' Crocus bulbs have very few disease or pest problems as long as you purchase healthy bulbs without soft or rotting spots. However, squirrels are fond of newly planting crocuses and will sometimes dig them up and eat them. You can protect your bulbs buy planting them under a wire mesh (make sure the openings are large enough for the plant to grow through) like chicken wire, or dog kennel paneling.