Herbs: Agastache foeniculum 'Alba'
Botanical name: Agastache foeniculum 'Alba'
Common name: white anise hyssop
also known as (Agastache anethiodora, Agastache anisata, anise-mint, white giant hyssop, licorice-mint, Alba, Stachys foeniculum)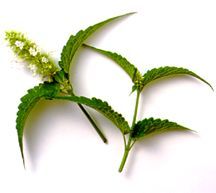 description for "Herbs: Agastache foeniculum 'Alba'"
White anise hyssop is a very showy plant. Perhaps a bit smaller than the usual anise hyssop, reaching 30" - 36". Gardeners in northern zones should give tender perennials like this extra protection during the cold months. -- edited by dtd pbcouchman
History:
Agastache foeniculum is native to North America.