Crocus: Crocus sieberi 'Firefly'
Botanical name: Crocus sieberi 'Firefly'
Common name: spring crocus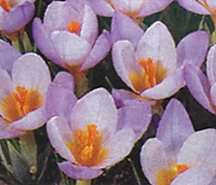 description for "Crocus: Crocus sieberi 'Firefly'"
'Firefly' appears earlier in the season than the insect version. Nearly white exterior with pale violet interior and a yellow heart. Spring crocus puts a spark in the garden wherever it glows. In bud, this variety is hardly noticeable, but when it opens with its rich lilac petals with bright yellow bases, the garden lights up even during the day. Flowers and plants are generally smaller in size than some of the hybrids. Plant corms in numbers of 100 or more just a few inches apart to create the impact you want. --edited by dtd siegelgirl
History:
Crocus sieberi 'Firefly' was developed by M. Thoolen of Overveen, The Netherlands. It is the single most popular crocus of its species. The species is native from the Balkans to mountains of Greece & really prefers cool climates. Our Zone 8 is about the warmest they enjoy, but will do nicely down to Zone 3, though of course further north they will bloom in spring rather than winter. The flowers reach four inches tall & are relatively large. They open a radiant lilac-blue with yellow center. These very easily naturalize & return year after year pretty much forever.