Shasta Daisy: Leucanthemum x superbum 'Snow Lady'
Botanical name: Leucanthemum x superbum 'Snow Lady'
Common name: Shasta daisy
also known as (Chrysanthemum maximum 'Snow Lady', Leucanthemum maximum 'Snow Lady', max daisy, Chrysanthemum x superbum 'Snow Lady')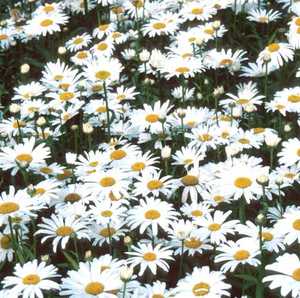 description for "Shasta Daisy: Leucanthemum x superbum 'Snow Lady'"
A hardy perennial, forming dense colonies once established. The white petaled flowers with golden yellow centers are borne individually on single erect stems. Compared to its cousin, the ox-eyed daisy, shasta daisies have a larger flower head diameter. Prefers full sun to partial shade in fertile soil. Cut back after flowering to prolong the blooming season. -- edited by dtd pbcouchman
History:
Leucanthemum x superbum was first hybridized by Luther Burbank in America in 1890. It is a cross between Chrysanthemum lacustre and Chrysanthemum maximum.