Alliums: Allium rosenbachianum 'Album'
Botanical name: Allium rosenbachianum 'Album'
Common name: ornamental onion
also known as (allium, Showy Onion, Rosenbach Allium)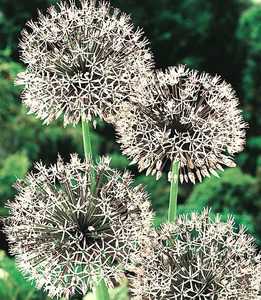 description for "Alliums: Allium rosenbachianum 'Album'"
With 'Album', stars of silvery-white gather together to form great looking globes in the garden. Leafless stems growing up to 3 1/2 feet tall hold the 5-inch orbs. This beautiful plant is a selection of Allium rosenbachianum and blooms for 3 to 4 weeks in midsummer. Use the flowers in both fresh and dried floral designs or allow the flowers to develop attractive seedpods. Like many alliums, this has an onion aroma when cut. -- edited by pbcouchman
History:
Allium rosenbachianum originates from central Asia.