Calla Lilies: Zantedeschia pentlandii
Botanical name: Zantedeschia pentlandii
Common name: calla-lily
also known as (arum-lily, Richardia pentlandii)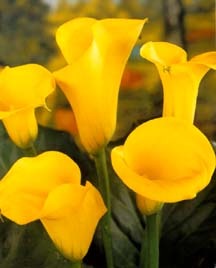 description for "Calla Lilies: Zantedeschia pentlandii"
Zantedeschia pentlandii is one yellow calla-lily you will have success with in the garden. If you've had meager luck growing the familiar yellow calla -ily, Z. eliottiana, try this exotic yellow species. Originally from South Africa, hybridizers in California have now produced a superior plant with immaculate (unspotted) leaves. It's won numerous awards, and it's sure to produce first class results in your garden or greenhouse. -- edited by dtd pbcouchman
History:
Zantedeschia pentlandii is native to southern Africa.