Perennials: Dicentra spectabilis
Botanical name: Dicentra spectabilis
Common name: bleeding heart
also known as (bleeding hearts, lady in the bath, showy bleeding heart, seal flower, lyre flower, locks and keys, Dutchman's breeches, Chinaman's breeches, common bleeding heart)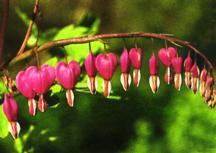 description for "Perennials: Dicentra spectabilis"
Bleeding heart belongs to a genus with much value, some varieties of which are among the most beloved of all plants. They are happy in average garden soil with even moisture. This is the old fashioned bleeding heart, which is native to Japan. It was brought into cultivation in 1810, but was lost and then reintroduced in 1846. It has been extremely popular ever since. No other plant can match it in flower form. The clear pink, heart-shaped blossoms are suspended along a delicate, arched stem. -- edited by dtd pbcouchman
History:
Dicentra spectabilis is native to Japan.